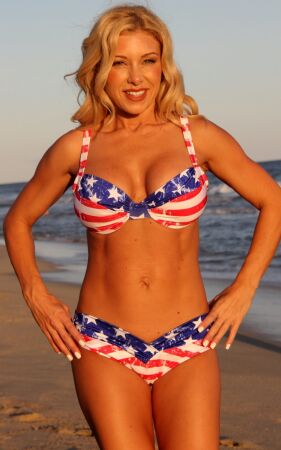 American Calypso Goddess
W252
Be an All American Girl in this vintage, patriotic, and body slimming bikini! Our underwire top will support and lift a small or full bust. Our body shaping low rise bottom with a v-cut in front and back will make you look slim, trim and sexy as it lays over your hips. This is the perfect curves bikini. Show off your love for the USA in our perfect curvesbikini, The Calypso Goddess!
$119.00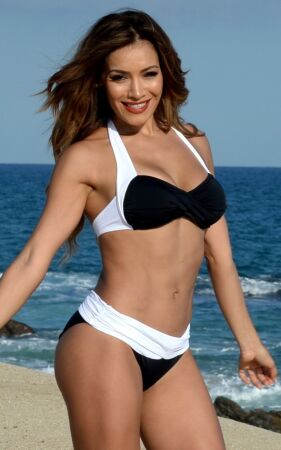 Monroe Bikini
Q240
Monroe Bikini Shape every inch of your body in the Monroe Bikini while looking like a star! Our Monroe top is with a twist in front, tying at the neck and back for total adjusted fit, while looking fabulous. Our body shaping bottom is made with blind rubber technology and has a twist accent around the top of the band makeing you look slim, trim and sexy. These will be your favorite bottoms since the fabric lays perfect on your hips without cutting into your sides! We almost called it the Perfect Shaper Bikini! The White and black Matte color will make you look oh so tanned and sophistcated!
$94.00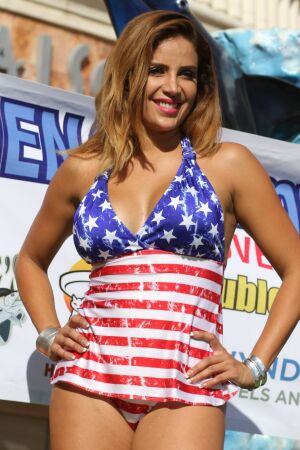 Vintage Stars and Stripes Open-Back Tankini
W263
Celebrate in a Vintage kind-a-way! The American Stars and Stripes in an Open Back Tankini is the way to go to any pool party or just to show your spirit !The fit is for Every Body in UjENA's Open Back because you can adjust for the right fit around your bust. The alter style cups have a slight cross over at the cleaveage for added support and coverage. added! The tankini is designed for those that love their backs but still want to cover their stomachs and still have the ablilty to move into action. The full scoop bottoms are just the right amount of coverage. This full-fit bikini is a must have for your swimwear collection.
$124.00